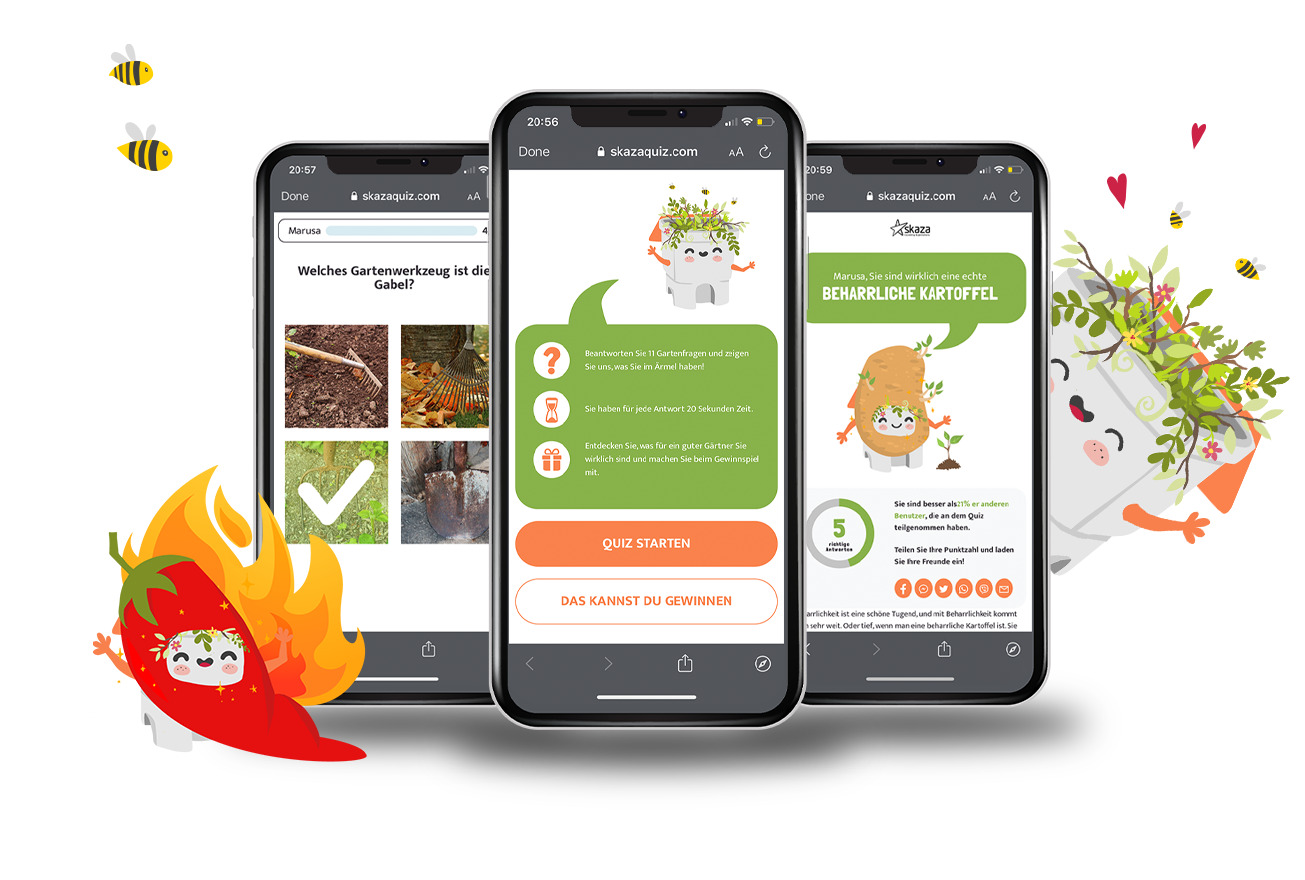 Bokashi Organko Gardening Quiz (DE)
Plastika Skaza wanted to expand their visibility on the German market and showcase their product – Bokashi Organko.
BRIEF & REFERENCES
01
Increased visibility of Bokashi composting
How to make Bokashi composting more visible in a fun way?
02
Expanding recognition on the German market
In order for Skaza's visibility to expand on the German market, the solution should be in the German language.
03
Greater user engagement
Users would spend more quality time with the brand through a fun quiz.
04
Acquisition of new users and customers
Create a database of users who can be approached about Bokashi Organko composting.
11,000+ quizzes played
80% female users
3:52 average quiz solve time
1,647 opt-in users
WHAT WAS THE RESULT?
A fun educational segmentation quiz with a business survey.
Through charming, relaxed communication, Gardening Quiz: How Well Do You Know Your Garden? stirred the brains of all types of gardeners – from amateurs to great experts – with questions about produce, gardening tasks, tools and, of course, composting. This is how users got to know a new product in a fun way – the Bokashi Organko composter.
Contact us
Campaign mechanics
The Bokashi Organko kitchen composter became the adorable main character of the quiz, interacting with users in a humorous way. At the end of the quiz users received feedback in the form of an entertaining segment. It was a unique illustration of the main character, Bokashi, except that he greeted visitors in the fun guise of each individual segment – as a potato, cucumber, chili pepper or tomato. Which one the user received depended on the number of correct or incorrect answers.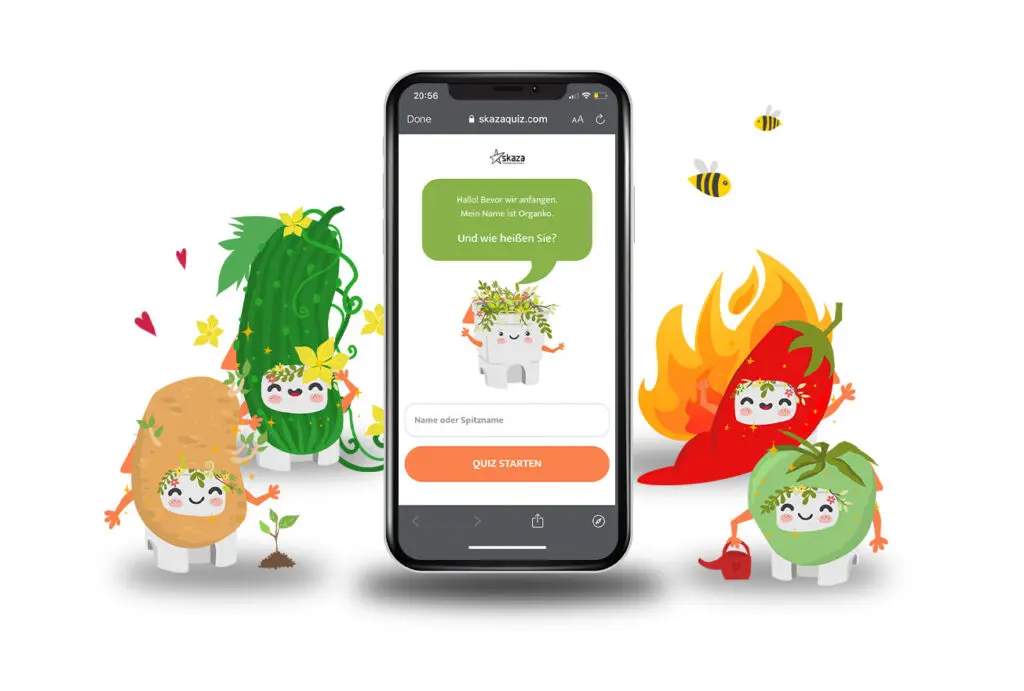 Results and interesting facts
The purpose of the quiz was to test knowledge about gardening, produce, compost and gardening tools. After completing the quiz, we divided the users into four segments according to the level of knowledge they demonstrated. ?
In a little over 11,000 quizzes played, the most players received the flattering title of PERSISTENT POTATO ? (2nd best score). It was followed by UPSTANDING CUCUMBER ? (3rd best score) and GREEN TOMATO ? (4th best score). The top title aka HOT PEPPER ? was won by the fewest urban farmers (12%).
During the quiz, we unobtrusively asked the users a few questions that help the client to better understand their habits. More than 7,000 users answered the survey during the quiz, which provided the Skaza company with rather intriguing insight into the lifestyle of the target audience for their product.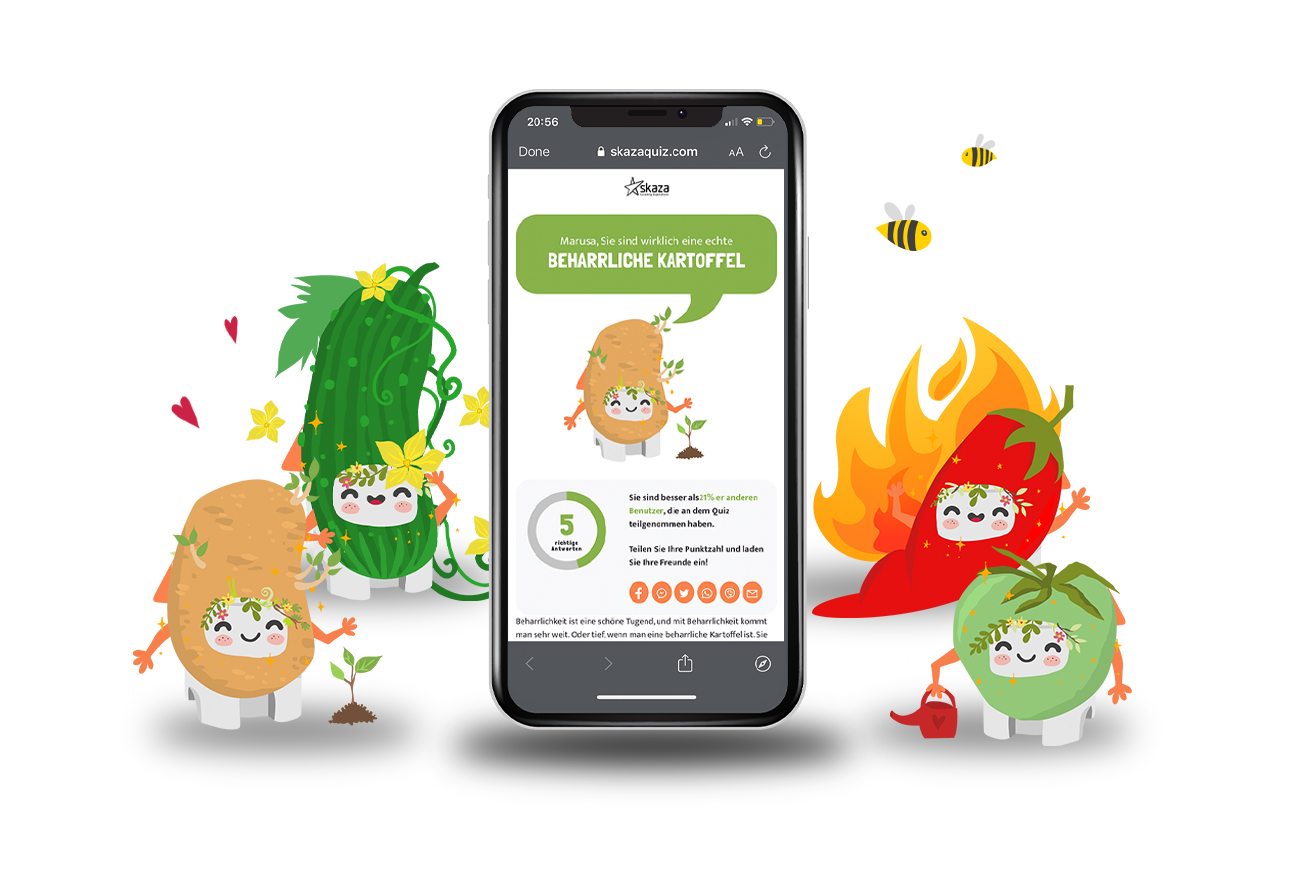 "The Escapebox team is a young and motivated team, full of quality ideas and infectious optimism. I especially value that they provide me with a concrete and professionally backed solution in any situation, which they then also implement at a high level and within the deadline. Only after working with them does one begin to understand the term #blowyourmind – they are an excellent partner, with whom we can create interactive and creative campaigns to reach our goals. I admire their capability to tear down our walls in order to try something new. "

Anja Damjanovič

Plastika Skaza d.o.o.
Want to receive a game idea in your inbox?
Send us a message and we'll reply with an idea for your next playful campaign 🤝
Contact us