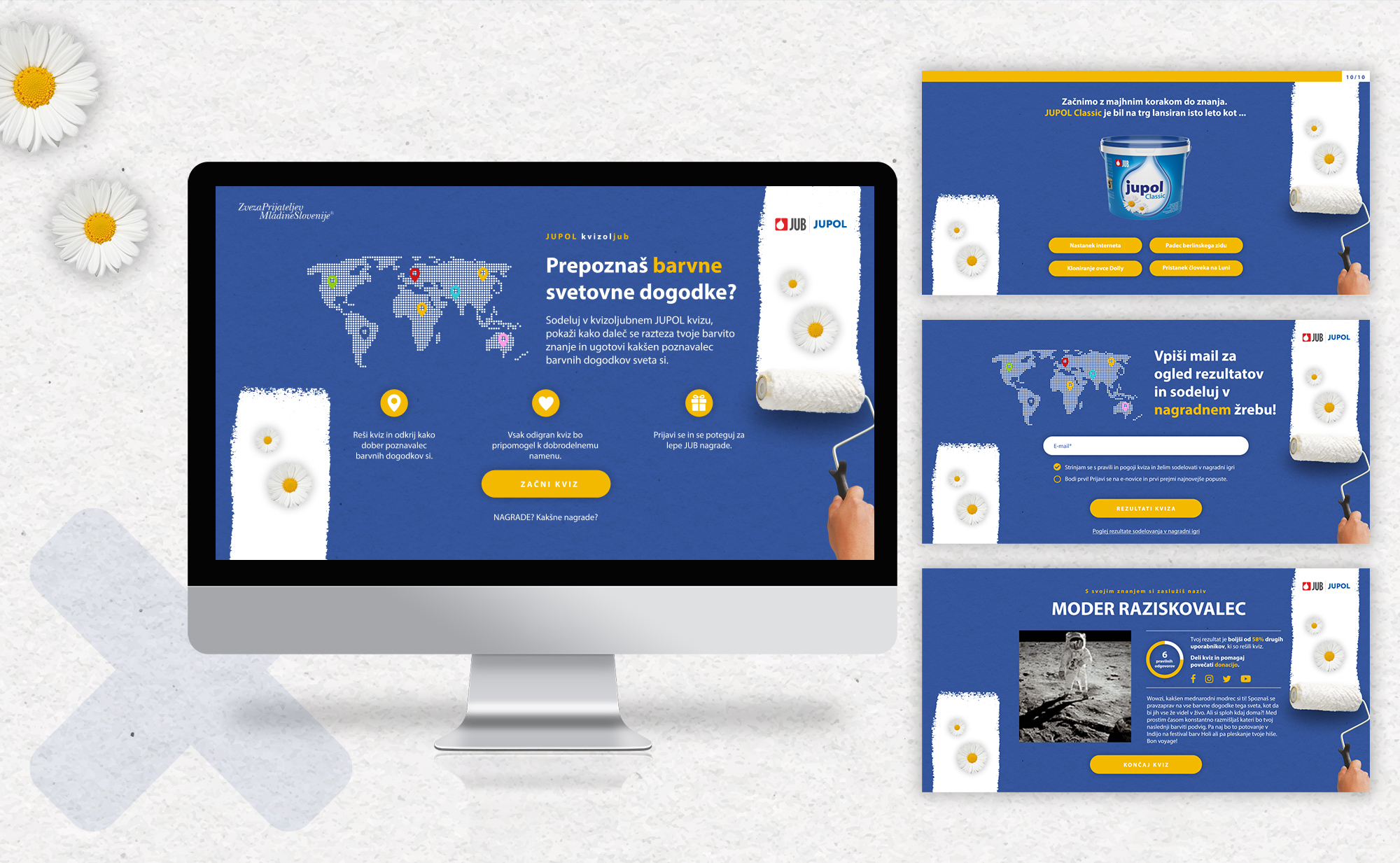 JUPOL Quizlover: Do You Know the Colourful Global Events?
With the JUB brand, we created a fun quiz about colourful global events with an emphasis on the JUPOL Classic paint.
BRIEF & REFERENCES
01
Presentation of JUB products
Present JUPOL Classic and DIPI products through a colourful quiz about global events.
02
Activate users
Through fun activation, ensure that users spend more time with the JUB brand.
03
Solution for 4 countries
The quiz should be available for four markets, in four languages – Slovenian, Croatian, Serbian and Bosnian.
04
A charitable note
For each quiz played, JUB donated a pot of paint for the renovation of the Zambratija children's resort.
A quiz for a 16 million market
24,732 quizzes played
68% of users completed the quiz
25% newsletter signup
WHAT WAS THE RESULT?
Educational segmentation quiz: JUPOL Quizlover.
JUPOL Quizlover: Do You Know the Colourful Global Events? is a cute quiz about global events whose colourfulness is connected to JUB's JUPOL Classic white paint or DIPI tinting agent in one way or another.
Contact us
How to present the JUB brand in a different way?
With a fun quiz that challenges users to know colourful global events and simultaneously educates them about JUB and its products. Out of a total of 10 questions, 6 are related to the JUPOL Classic white paint, 2 to the DIPI tinting agent and 2 specifically to the JUB brand.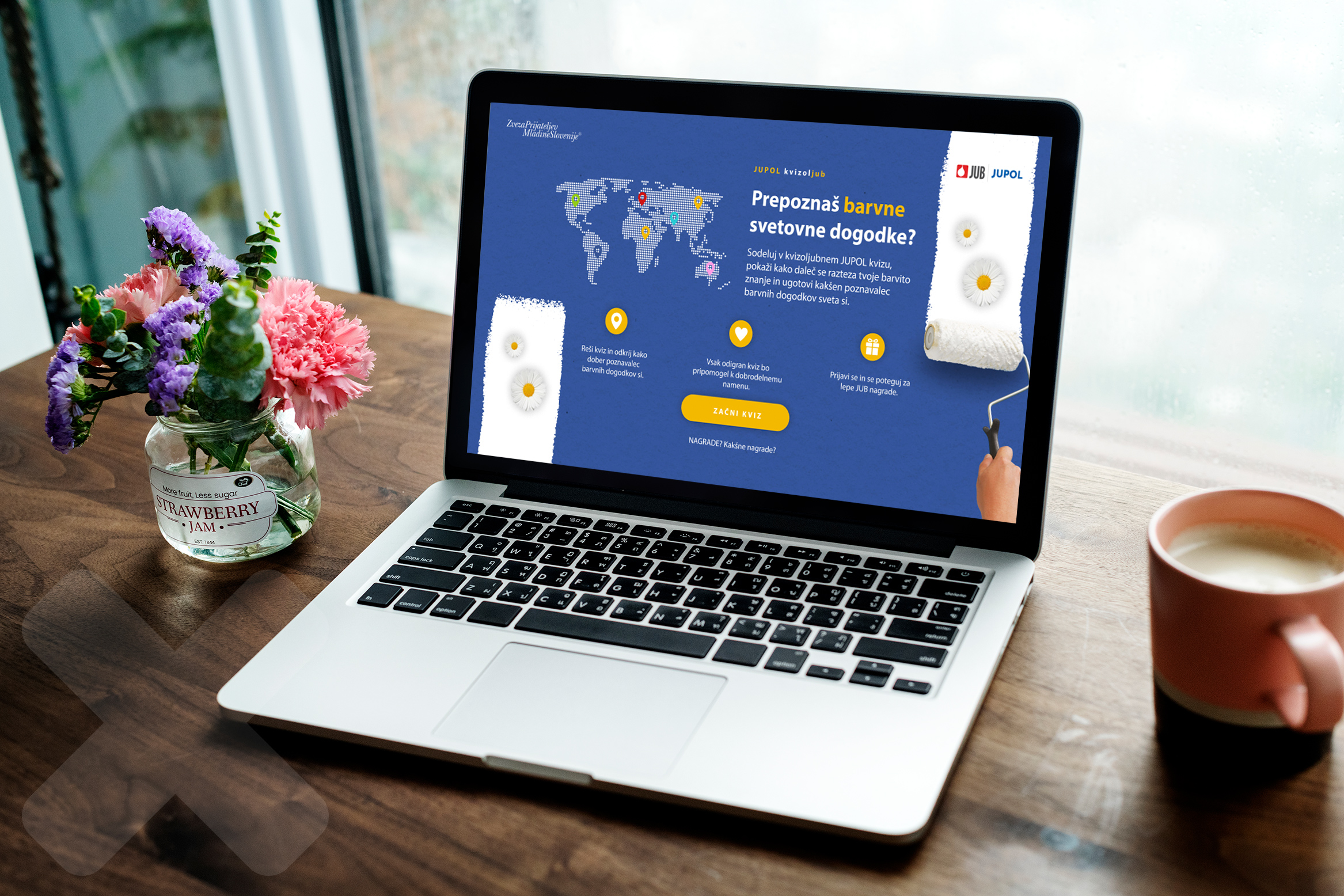 The global events we connected with the white paint:
Queen Victoria's wedding
ski jumping in Planica
the Eurochocolate chocolate festival
man landing on the Moon
the Festival of San Fermín
daisies blooming in spring
The events connected with the DIPI tinting agent:
La Tomatina (red DIPI)
St Patrick's Day (Green DIPI)
The questions about the JUB brand were related to:
its most recognizable brand JUPOL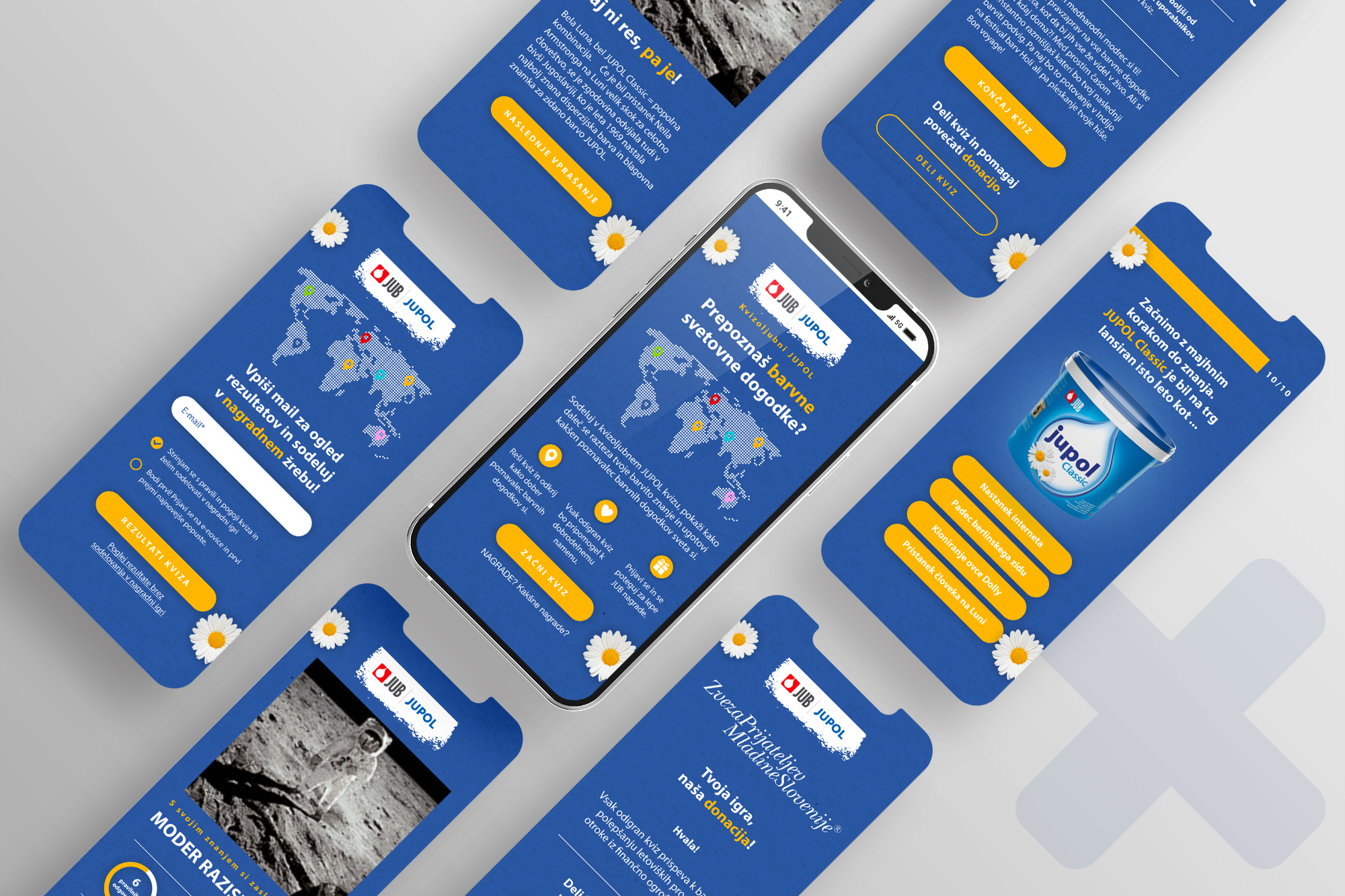 Campaign results
The campaign lasted between 15 and 30 days in different countries.
The largest number of users participated in the Croatian market – 12,989, which is 54 % of all quizzes played.
The Slovenian market also had very good conversions, as 69 % of users reached the end of the quiz. Of these, 57 % submitted their email for the prize draw, and 30 % also signed up for the newsletter. This was also the highest percentage of newsletter signups of any participating market.
With 44 %, the Serbian market had the highest engagement rate of all markets.
The Bosnian market, however, had the highest finish rate – as many as 71 % of all users who started solving the quiz played it to the end. In general, the finish rate was higher than 66 % in all markets.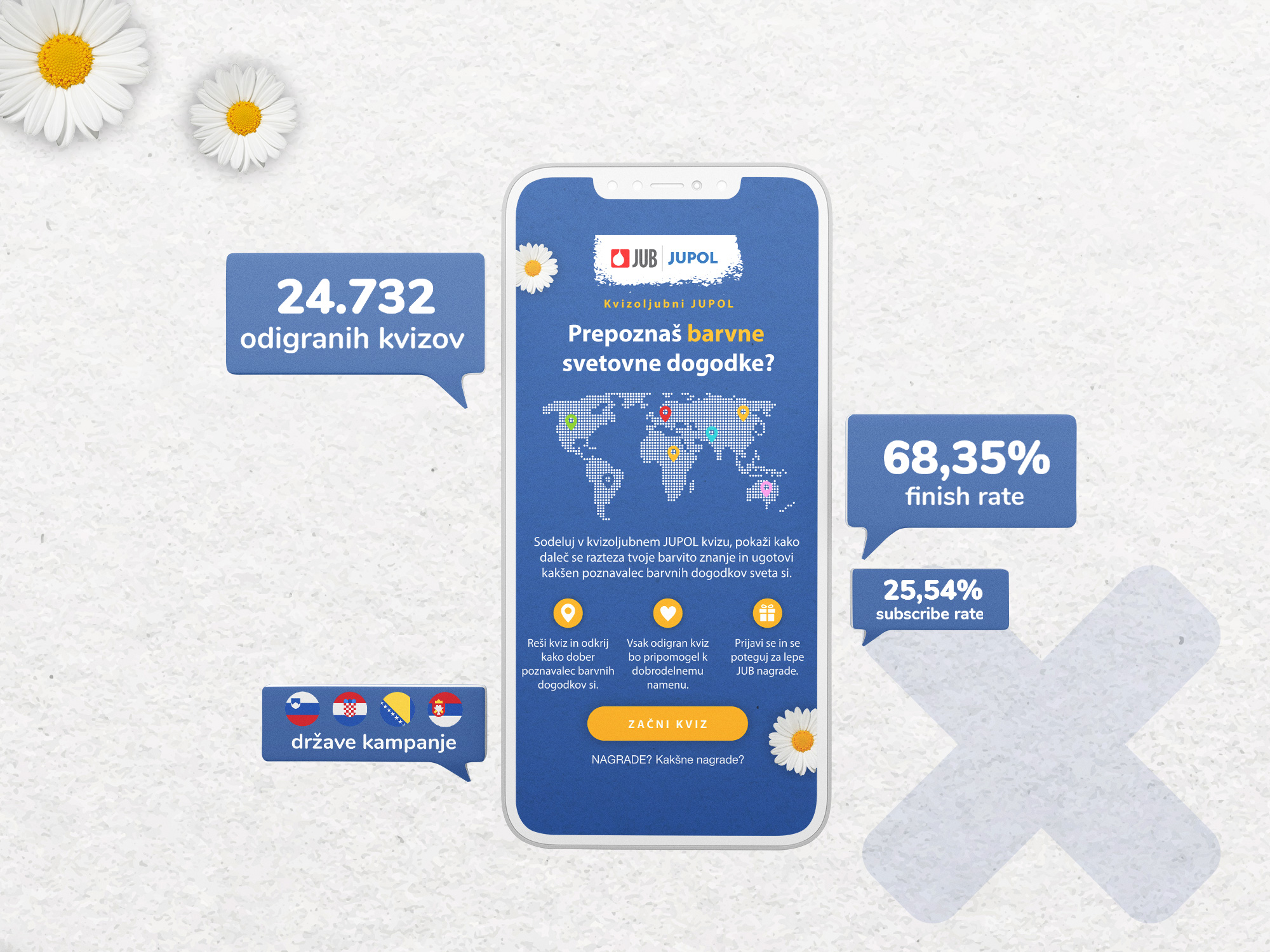 Want to receive a game idea in your inbox?
Send us a message and we'll reply with an idea for your next playful campaign 🤝
Contact us